Software Development
And System Integration
Software Development
DAT is a leading provider of software development and system integration services, with a specialization in Stock Exchange system, Securities Trading systems, and office automation projects. Our expertise in these areas allows us to deliver innovative and customized solutions that meet the unique needs of our clients. We are committed to providing the highest quality services and building long-term relationships with our clients.
In the past, DAT has successfully implemented Stock Exchange and Securities Trading systems for our clients, accomplishing additional business functional tools and a daily operational monitoring system. We also offer OA environment implementation services, ensuring a smooth system go-live with guidance and best practices from DIR. Our commitment to delivering excellence in every aspect of our work has made us a trusted partner for businesses looking to leverage technology to drive growth and innovation.
DAT remains committed to innovation and developing new business functional processes for our clients. We have recently developed new processes, including increasing matching time increments from 3 to 7 times, conducting Corporate Action business activities functional testing and go-live, enabling Foreigner Trading, and implementing a Pre-Listing board. These new processes reflect our dedication to providing our clients with the latest and most effective business ICT solutions to meet their business needs.

We continuously strive to improve system performance and failure management by offering excellent services, including feasible business continuity and contingency plans, as well as failure manuals based on advanced research and development results. Our goal is to provide our clients with the most innovative and reliable technology solutions.
At DAT, our extensive experience in system development and IT expertise, including incident monitoring and project management consultancy services, have allowed us to gain valuable business domain knowledge. By utilizing our extensive expertise and domain knowledge, we are able to provide our clients with customized services that align with their unique needs and objectives. We understand that every business is different and requires a tailored approach, which is why we work closely with our clients to develop solutions that are both effective and efficient. Our commitment to providing personalized services has earned us a reputation as a trusted and reliable partner for businesses looking to achieve their technology goals. Our dedication to excellence and customer satisfaction is reflected in everything we do.
System Integration
DAT is dedicated to providing system integration and IT service maintenance to Japanese companies in Myanmar. In pursuit of this commitment, we have recently secured IT service maintenance agreements with AEON Myanmar Ltd, Fuji Xerox Myanmar Ltd, and Myanmar Securities Exchange Centre Co Ltd. We take pride in supporting these companies in achieving their business objectives through our technology solutions and support services that enable them to operate efficiently and effectively. Our team of experienced professionals is committed to delivering high-quality services tailored to our clients' unique needs. We aim to build long-lasting relationships with these and other businesses in Myanmar.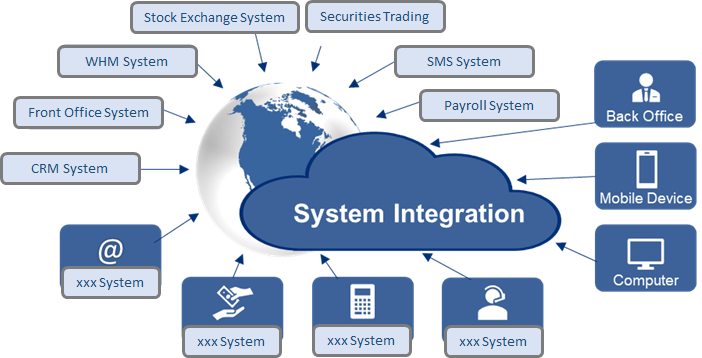 Our Services
DAT provide best practices and solutions for IT operations, monitoring, incident handling and service level supports by ensuring efficient and reliable service delivery under ITSM (IT Service Management) approach. With standardized processes and automated tools, our expert team handles from Incident management to change and release management by reducing downtime and minimizing disruptions.
We provide service supports to our valuable customers such as

Daily Business Running

Service Maintenance

Server Health Check

Incident Handling and Troubleshooting

Service Status Monitoring

Data backup

Historical Data Support

Periodic Reporting
Enhance Your Projects with DAT's Expert Consulting Services

Welcome to DAT, your partner for achieving successful projects. Our exceptional project management consulting services are carefully designed to help clients like you achieve your project goals. At DAT, we understand how important it is to stick to the plans for scope, timeline, and budget. Our commitment to excellence drives us to use a strong Project Management Office (PMO) framework that improves every part of project management.

Custom Solutions for Your Success

Our approach is straightforward yet powerful: we create solutions that fit your project's needs. We know each project is different, so our methods can adjust to what you need. With DAT, you'll get a detailed plan that keeps your project on track, on time, and within budget.
Discovering the PMO Advantage
DAT's expertise shines through our smart PMO practices. Using what we've learned from the industry and experience, we follow steps that cover all the important parts of project management.
Your Success, Our Priority
By following these PMO steps, DAT is set to make your project management smooth and successful. We're dedicated to making sure your projects are managed well. With DAT, your project goals become reachable targets, all while staying within the plans for scope, time, and budget.
Feel the DAT difference today. Join us for project management consulting services that push your projects towards great success.
Our Products
Introduction of Share Management System and its functionalities
The Share Management System (SMS) is a web-based solution developed by DIR-ACE Technology Ltd (DAT) to facilitate the business process of shares trading and support the dematerialization process in public companies. The system is comprised of two main parts: Front office and Back office functions.
The Front-office function includes product registration, shares classification, shareholder classification, and registration. The system allows users to record information about the Initial Public Offering (IPO) and its payment information. Although there is no real-time matching process, the solution enables users to record buy and sell order information and share transfer processes. A flexible and easy-to-use data migration screen is designed to transfer existing data of shareholders and their holding shares information from Excel to the system. The system also has the ability to define dividend payment policies, such as by cash or by shares. An automatic email notification function is also available to announce and invite shareholders about the annual shareholders meeting or dividend payment.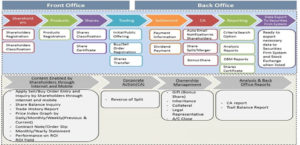 The Back-office function includes corporate action functions such as share split, merger, and bonus share issue. The system dashboard provides a graphical and analytical view of share price, shareholding ratio, sell/buy, and issued shares information. Share certificates with predefined formats can be easily generated, and reports about share certificate loss, damage, and issuance can be generated as well. The system also provides stakeholders' reports, such as Form VI, Form E, and Central Bank of Myanmar's predefined reports, general reports, and Tri balance report. The data from the system can be exported into several file formats, such as CSV, Excel, and PDF. Additionally, the criteria-based search reports are useful for the board of directors and management team to receive timely information about shareholders, shares transfer, and trade information to analyze, value, and trade securities.
The Share Management System offers a range of features and functionalities that make it easier and more efficient for public companies to manage their shares and related processes. By digitizing and centralizing share certificates, shareholders' information, and transaction records, the system eliminates many of the challenges and risks associated with paper-based systems. Additionally, the system provides tools for corporate actions, reporting, and analysis, which can help public companies make informed decisions and comply with regulatory requirements.
In summary, Share Management System(SMS) is a comprehensive solution for managing shares trading and supporting the dematerialization process in public companies.

As we embrace the digital age, Robotic Process Automation stands as a cornerstone of progress. Whether you're a business leader, an entrepreneur, or an individual curious about the future of work, RPA offers insights into the boundless possibilities of innovation and efficiency.
DAT boasts a wealth of expertise in Robotic Process Automation (RPA), marked by a track record of successful project execution across local and offshore landscapes, notably concentrating on initiatives within Japan. Noteworthy projects include:
Renewal Notification Letter Generation Bot
Tax Calculation Bot
Contract Calculation Bot
New Project Registration Bot
Task and Schedule Registration Bot
Pay Slip Generation Bot
Tax Report Generation Bot
Company-owned Communication Devices Request Automation Bot
OA Automation Bot
Development support registration automation Bot
Discover a transformative journey as DAT, an experienced development in RPA projects, extends an inviting hand to shape your business through the power of Robotic Process Automation. As pioneers in this dynamic realm, we welcome you to a realm where innovation and streamlined operations converge.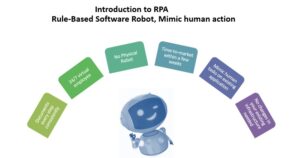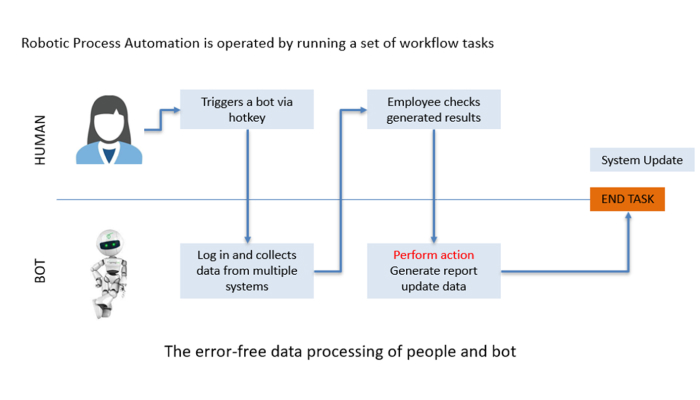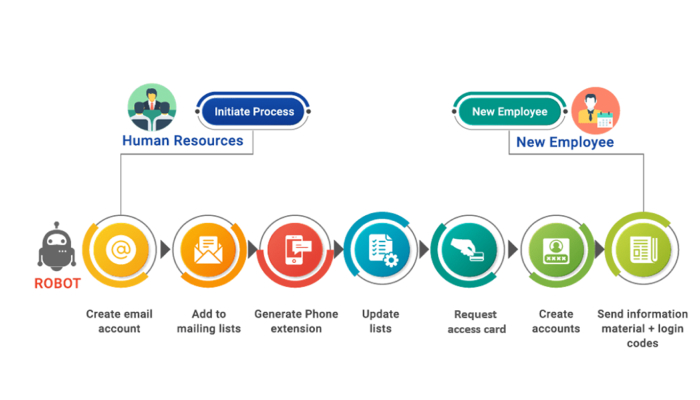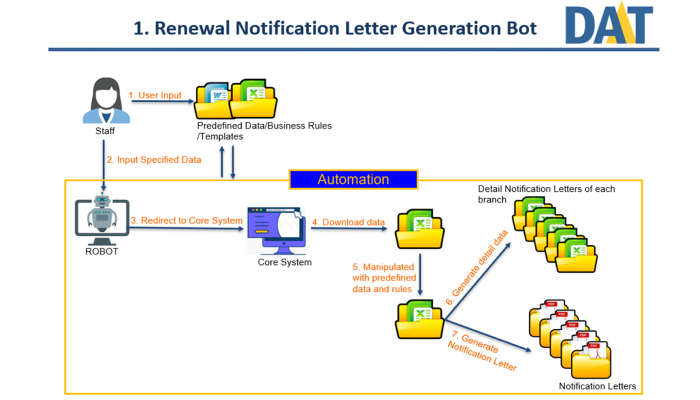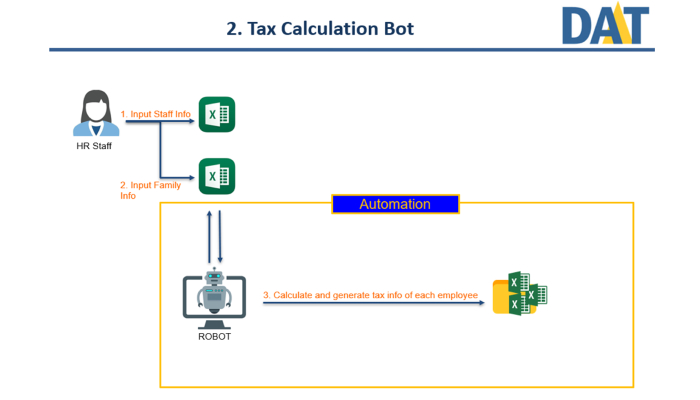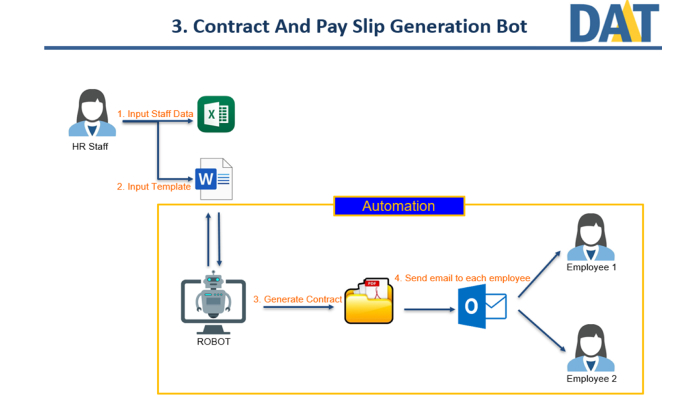 Join us as we redefine the landscape of business efficiency, ushering in a new era of growth and optimization. Welcome to a partnership that propels your business forward through the limitless potential of RPA.