Company
Profile
DIR-ACE Technology Ltd. (DAT) is a dynamic and innovative company that was established in April 2013 through a groundbreaking collaboration between DIR, one of Japan's leading think tanks, and ACE Data Systems, a major IT company in Myanmar. Since its inception, DAT has been at the forefront of providing cutting-edge IT support to Myanmar's financial and capital markets, with a focus on the construction of stock exchange and securities trading systems.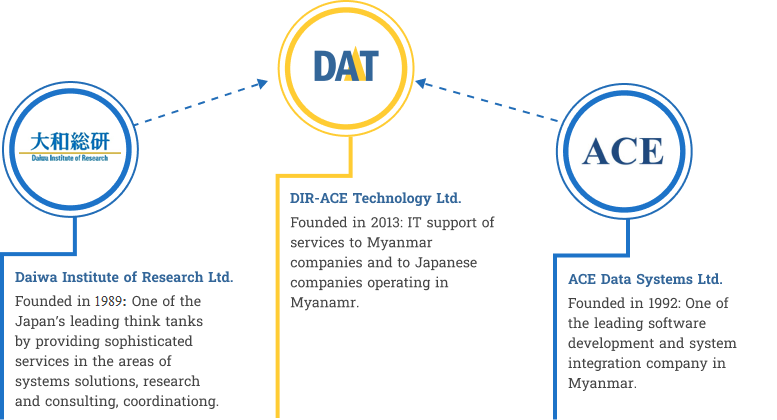 At the heart of DAT's success is its team of highly skilled and experienced IT professionals, who bring together a wealth of expertise and knowledge in system development, project management, and IT consulting. With a deep understanding of Myanmar's financial and capital markets, as well as the offshore developments for DIR group especially in distributed systems and host systems development, DAT is uniquely positioned to deliver customized and effective solutions to its clients.
One of DAT's key strengths is its close partnership with DIR, which has been instrumental in supporting the establishment of a capital market in Myanmar. Through this partnership, DAT has gained access to a vast network of industry experts, as well as invaluable insights and knowledge on the latest trends and developments in global financial and capital markets.
Over the years, DAT has built a strong reputation for delivering high-quality and reliable IT support services to its clients, both in Myanmar and overseas. Its portfolio of successful projects includes the development of mission-critical systems for stock exchange and securities companies, as well as the provision of comprehensive IT support to major corporations and government agencies.
Looking ahead, DAT is committed to expanding its business and continuing to provide best-in-class IT support to its clients. With a proven track record of success and a deep commitment to excellence, DAT is poised to become a key player in the ongoing modernization of Myanmar's financial and capital markets.
Daiwa Institute of Research Ltd. (DIR): is the information-generating arm of the Daiwa Securities Group in Japan, comprising three divisions: system, research, and consulting. In the system division, DIR provides IT services to financial institutions, utilizing our expertise in data and platform solutions. DIR's data scientists offer end-to-end services, from data collection to infrastructure development. Addressing the popularity of remote work, our tailored platform services handle security and device management, aiming to create secure setups that fit individual company needs.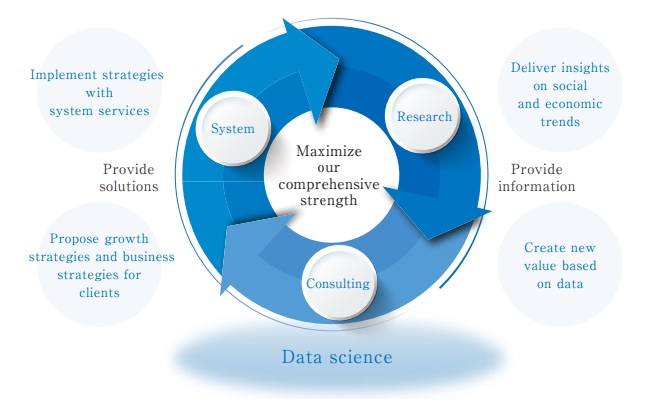 In the research division, DIR provides medium-to-long-term economic and financial forecasts to serve as guideposts for an uncertain future. Moreover, DIR delivers quality information to the public, focusing on timely subjects and issues such as regional revitalization, SDGs, and sustainable finance. DIR also engages in activities that contribute to the vitalization and development of the economy, society, and financial and capital markets, such as holding seminars that delve deeply into these subjects, publishing books, and participating in various research projects and committees.
In the consulting division, DIR offers one-stop support, from the drawing of strategies through implementation, to lead our clients' businesses to achieve success. This includes evaluation and logic required for determining future strategies, such as launching new businesses or expanding existing ones, as well as the development of organizations and the personnel system necessary to implement the strategies. For business in Asia, DIR provides solutions for both research and consulting, including research on the public sector within Japan and abroad, preliminary research, strategy development, and company establishment procedures for Japanese companies expanding to Asian countries.
With a commitment to excellence and a deep understanding of the financial services industry, DIR is a trusted partner for businesses looking to stay ahead of the curve in today's rapidly changing business landscape. DIR's divisions work collaboratively to provide a comprehensive range of value-added information services to their clients.
ACE Data Systems, established in 1992, is a leading system development company in Myanmar as a small software house and IT training center. Nowadays, ACE Data Systems Group has grown into a group of twenty-two companies with over eight hundred and fifty employees with business operations in software development and system integration, outsourcing, IT infrastructure and cyber security, education services, e-commerce and business consulting.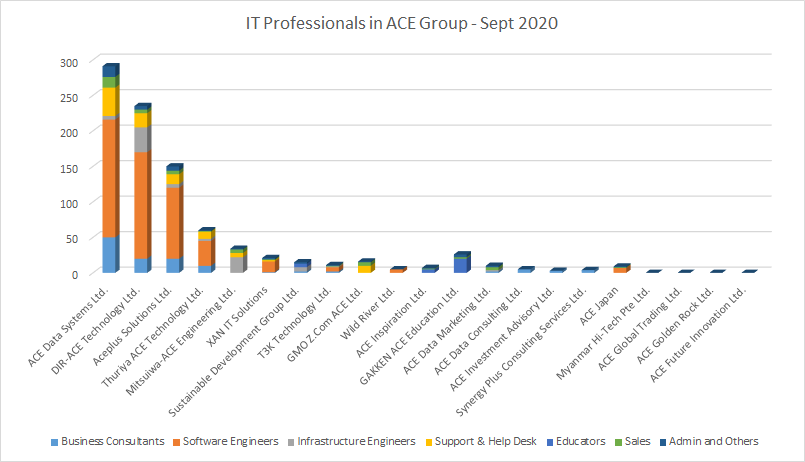 ACE specializes in building customized systems such as Internet Banking, Mobile Banking, Digital Wallet and Payment Switching Solutions, Card Management Solutions, ATM Solutions, Anti Money Laundering Solutions and Risk Management Solutions, Workflow & Business Process Management Solutions, Digital Blueprint and Learning Management Solutions, Lending Management Solutions, Customer Relationship Management (CRM) Solutions, Enterprise Resource Planning (ERP) Solutions and Business Intelligence Solutions, Enterprise Resource Planning (ERP) solutions, Customer Relationship Management (CRM) solutions, Human Resource Management (HRM) solutions and Business Collaboration (BC) solutions, POS, Retail Management, Mall Management and Loyalty Management Solutions, Government Accounting Solutions and Government Human Resource Management Solutions including IT help desk, 24/7 operation and maintenance support for a diverse range of customers, including banks, insurance companies, hotels, and retail businesses.
ACE group, by collaboration with various global partners, is working on digital transformation in public finance, transportation, disaster management, agriculture, health care, e-education and other e-government services through private-public partnership. Moreover, ACE group is providing ICT Professionals Training Courses from beginner courses to advanced courses, corporate IT training courses such as Office Ready, Basic Programming, Information Security and Data Privacy Management and Project Management Courses to corporates and organizations, cyber security training from basic awareness to coaching for cyber security specialists, energy engineering, energy management and green technology courses to create a cleaner, greener, safer and healthier living environment using best engineering practices, GAKKEN mathematics, language and science classrooms across various cities in Myanmar and providing extra curriculum educations.
With clear visions and business strategies, ACE group is hoping to bring its 28 years of success into the future and to be one of the leading IT companies in Myanmar.
Principles for Business Activities
Providing IT support for systems used by stock exchange and securities companies is a core principle of our business activities. We specialize in the development, maintenance, and operation of systems for stock exchanges and securities companies.
IT support for ordinary businesses
Providing IT support services to both local Myanmar companies and Japanese companies operating in Myanmar.
Offshore Development
We provide comprehensive systems development, maintenance, and operation services for the DIR Group to ensure their IT infrastructure is fully optimized and supports their business objectives.
Company Outline
| | |
| --- | --- |
| Corporate name | DIR-ACE Technology Ltd.(DAT) |
| Capital Contribution ratio | DIR:50% ACE:50% |
| Chairman | U Thein Oo |
| CEO | Hiroyasu Ishikawa |
| Date of establishment | 8th April, 2013 |
| Location | Building 17, 3rd Floor Myanmar Info-Tech, Hlaing Township, Yangon, Myanmar |
| | |
| --- | --- |
| IT Infrastructure Building & Supporting | |
| Software Development & System Integration | |
| Offshore and Outsourcing Services | |